I casually dropped into a previous post that I brought a purple chipmunk back to a friend in Peru. He's recently got himself a puppy, and my plan was to put myself in the good graces of said puppy.
Well, the puppy isn't getting the chipmunk until he's house-trained, but my friend was excited about the chipmunk regardless. He brought it up to me, thrilled, a week later that the chipmunk makes three kinds of noises.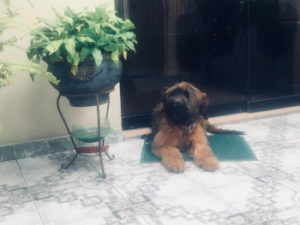 And, finally, I've met the dog. It's a Briard sheepdog that needed to be brought down from Lima - they simply don't have the breed in Arequipa. We took him up to Sogay for the day and let him run free among the grass, bark at farm animals, and goof around for a couple of hours while we caught up. It was also an opportunity for me to get some of my questions answered on raising dogs in Peru.
We talked a bit about life for Ulysses (names for the James Joyce novel, but pronounced according to Spanish convention; the dog couldn't understand his name through my accent). Dog food here is expensive. Purina is considered the best brand, and its most premium line costs about s/200 a kilo. That's $60 for roughly two pounds of food. It's an insane amount of money. I think, truly, if I had a dog here, I'd be making food for it, and it would be eating better and saving money.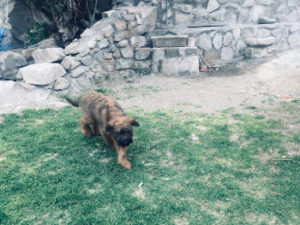 Ulysses leads a pretty charmed life; as I've mentioned before, life for pets here is wildly inconsistent from home to home. There are dogs that live on roofs, dogs that are allowed to roam the streets, and dogs that wear harnesses and go for leashed walks with their owners. Ulysses is the last category. He sleeps in the home and is allowed freedom there (when I arrived to meet him, he'd just leapt in the water with some of the laundry), and he has very little contact with street dogs. He likes Sogay because it means freedom.
My friend and I connected during my internship because we're both a little abnormal for Peruvian - particularly Arequipeñan - standards. And he told me he thinks Ulysses is taking after him.
For example, Ulysses likes to chew on rocks. Sometimes he'll bark at walls, and, while I was there, he barked at the air for a solid twenty minutes - maybe even longer. He also sticks to the convention of his breed and loves barking at cows, donkeys, or any other kind of farm animal.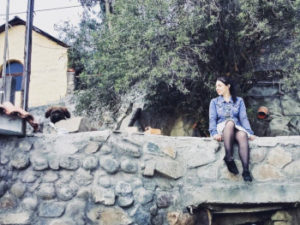 But Ulysses also stands for something I think a lot of pet owners (as well as parents!) relate to: he's been solidly improving my friend's mental health. Seeing this puppy excited over discovering the word has made the world itself new and thrilling for my friend. Developing such a strong bond with a creature he cares for allows him to love unconditionally, without fear. Ulysses gives him hope, peace, and humor.
Having pets (or children) isn't for everyone, but for those who are well-suited to it, I think the world truly becomes a better place.
And there is your quick happy update for the week. How did your first pet change your life?
Please follow and like us: